Some Activities needs preparation and reservation.
About Tel icon please call or send mail about contents.
If you interested in Eating and delicious foods
BBQ
Imagine pleasant time with friendly friends and families doing BBQ!
Stay nights means no stress for drink beer and time.
There is rental BBQ stove
(reasonable for 4person, need reservation 1BBQ stove @1,650yen)
Lava Plate Stone Oven Pizza
From flouer, you can cook pizza crust and burn pizza.
You can feel good smell of crust fermentation.
(It takes 3 hours and 1 pizza @2,100yen.
If you don't have much time only topping pizza would cost @1,580yen and it takes time about 30minutes)
Soba Noodle Cooking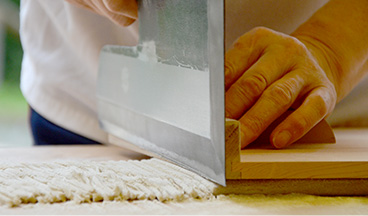 From local buckwheat flour, you can cook typical Japanese noodle, soba.
From ancient times, soba is eaten and have deep meaning to eat soba.
Please master how to cook soba and eat them usually.
(It takes 2 hours @2,100yen/1person)
Edible wild plants・Chestnuts・local mushrooms gathering
Early in spring, with melted snow, edible wild plants will appear(butterbur flower stalk).
Many expensive edible wild plants, how many kinds can you pick them?
In Autumn, Chestnuts and local mushrooms are tasty and find them is special pleasure.
If you interested in active actions
Watch constellations
In winter, cold air but clear stars, in summer with burning a mosquito coil of incenses,Falling stars and Milky Way is usually be found if it's fine night.
Enjoy Firefly
Kashiwagidaira is special topography. It means the land is surrounded 360°Sarugaishi Liver.
And clear stream, Otomo Liver makes good environment for fireflies. Middle of June to 7th of July,Typical firefly Genji would be watched. After that Heike would be watched.
The places would be changed year, then firefly expert person will advise about it.
Bird Watching
Bird Kite is always, fish hawk, owl, raptorial is living.
Good sound of woodpecker, good looking of long-tailed cock, good song of flycatcher is living.
Bird watchers longing bird, Try to mountain is sometimes be watched.
Visit Walk Waterfalls
It is said minus ion is good for human.
Tono area is surrounded mountains and rivers, so naturally waterfall Paradise!
This pictures Fujisawa Waterfall is 10minutes ride by car from Cottage to Entrance. Next day's muscular rheumatism ? Who know?
Mountainbike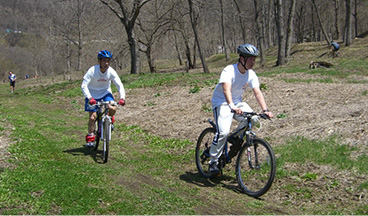 Cottage forest named Glory Forest, there are natural mountainbike courses.
In winter time, there would be cross country skiing course, or snow show walking course.
(Rental mountainbike 1 hour/@300yen 3hours/@500yen and Rental Assist electric bicycle 1hour/@500yen)